Experience the most beautiful part of Finnish Lakeland by bicycle!
Puumala Archipelago Route Route offers cyclists the best parts of the Lake Saimaa! Admire the stunning archipelago scenery, cross the open waters by bike ferries, and take a dip in the sparkling water of the finest sandy beaches. Enjoy the relaxed archipelago atmosphere, finnish sauna experiences and local delicacies along the way.
The Puumala Archipelago Route offers 60 km of pleasant cycling through islands, bridges and eskers. There are many starting points around Puumala, as well as many cozy places to stay. You will find fascinating Saimaa Geopark & nature sites, exciting stories, unique accommodation and relaxed camping destinations to explore. The route can be explored in one day, but we recommend to divide it into parts to enjoy and spend several days in the area, because there's a lot to see!
Here you can find three ferries:
Norppa II – the special bike ferry of Puumala archipelago route (tickets required to book beforehand).
Hätinvirta – a public car ferry leads to Niinisaari island, located 10 km from the centre of Puumala. This ride is for free, the ferry runs 24/7 (20 mins coffee breaks at 9:00, 12:00, 17:00 ja 20:00). Please plan some extra time for this ferry ride. When the ferry is departing and arriving – motor vehicles should go first aboard, then cyclists & pedestrians. This ferry is also a nice option, if you'd like to make a shorter cycling trip eg. between Puumala centre, Saimaa seal trail & Niinisaari.
Rasti – a bike ferry which leads from Puumala archipelago route (Lintusalo) to Saimaa archipelago route (Rastiniemi), tickets required to book beforehand.
By bicycle ferries, you can get around the lake Saimaa and combine both (Puumala 60 km & Saimaa 154 km) archipelago routes. There's a lot to see and explore on the road – it's really worth planning a several days trip. On the back of the bike, you truly experience the lake Saimaa through all of your senses. Check out the local services, routes and timetables, and get ferry tickets on our site. It's time to plan your own bike adventure in Saimaa!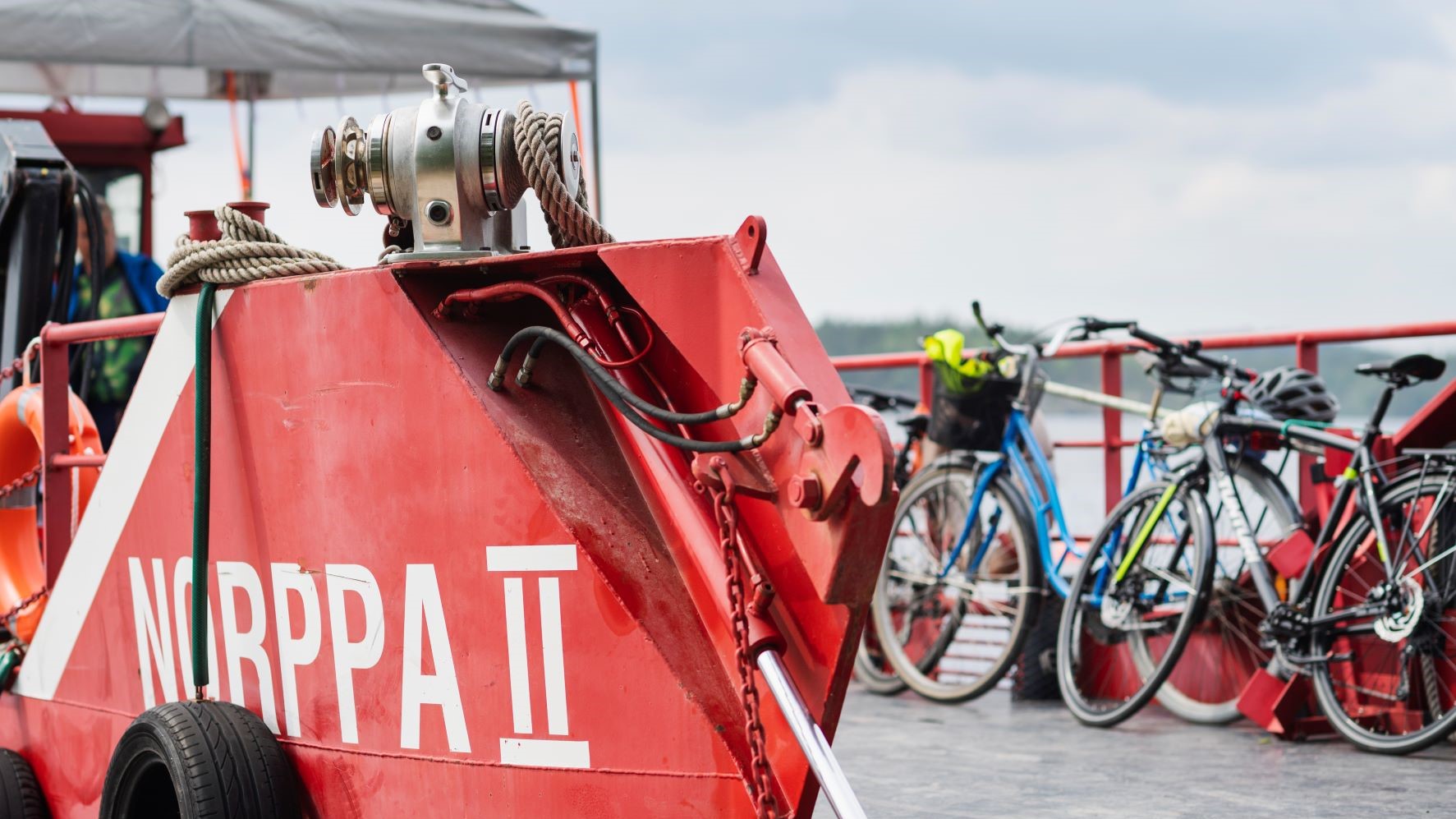 Hurissalo – Lintusalo bike ferry connection
In 2022 the ferry operates daily from 1 June to 31 August during the high season.
During the low season on Saturdays since 7th of May and till 24th of September.
The address of the Lintusalo pier (laituri) is Nestorinranta, Lintusalontie 1661 A, Puumala. The coordinates are 61° 25,8′, 28°00,1′.
The address of the Hurissalo pier (laituri) is Hurissalontie 390, Puumala.
The ferry has room for 20 passengers with their bicycles or motorcycles. There's no space for cars board.
The trip takes 40–60 minutes depending on the weather.
Norppa II bike ferry timetable 2022
Departures
LINTUSALO LAITURI
HURISSALO LAITURI
14.-28.5.
12:00 Sat
13:00 Sat

4.6.-1.7.

12:00 Mon-Sun

14:30 Sat 18.6. & 25.6.

13:00 Mon-Sun

15:30 Sat 18.6. & 25.6.

2.7.-15.7.

12:00 Mon-Sun

14:30 Tue-Sat

13:00 Mon-Sun

15:30 Tue-Sat

16.7.-30.7.

12:00 Mon-Sun

14:30 Mon-Sun

13:00 Mon-Sun

15:30 Mon-Sun

31.7.-31.8.

12:00 Mon-Sun

13:00 Mon-Sun

3.9.-24.9.
12:00 Sat
13:00 Sat
LINTUSALO – HURISSALO (buy now)
HURISSALO – LINTUSALO (buy now)
Prices (one way)
Adult with a bicycle: 15€
Child 4-15 yr. with a bicycle: 10€
Additional cost for a motorcycle: 5€
Matkahuolto additional service fee is 0,8€/ticket.
Tickets must be purchased online www.matkahuolto.fi/en.
Please select "Hurissalo laituri" or "Lintusalo laituri" (which means pier, not a bus stop) to find the right connection.
The "Norppa II" ferry email is norppa@puumala.fi and telephone +358 (0)50 308 3004.
For groups, there is a possibility of extra departures on request, please ask.
In Puumala, there are also some boat taxi options, if the ferry timetable doesn't suit you.
Puumala archipelago route map 2022 (pdf)
Further information on bike rental in Puumala (also e-bikes): www.saimaabikes.fi
Tips: There are many amazing nature sites and Saimaa Geopark destinations on the way! For example, "Lietvesi scenic road" next to the "Pistohiekka" area, famous by its beautiful beaches. Few kilometres from Pistohiekka there is a "Loketon onkalo" canyon, and nearby Sahanlahti you can explore the "Tupavuoren luola" cave. At the centre of Puumala you can find groceries, restaurants and a bridge with a viewpoint. "The Saimaa Seal trail" is a perfect place to stop for a walk and barbeque at the lean-to, or just go hiking all the route on some other day during the holiday. The "Säkkimäki" lean-to in Liimattala makes a great overlook pit-stop on a hill. Check out the rock formations "Rakokivet" in Hurissalo, too!
You can find more information about these on following maps:
Saimaa Geopark & nature sites in Puumala
The Saimaa Seal trail nature path
Saimaa Archipelago Route
From Puumala Archipelago Route (60 km) you can continue to Saimaa Archipelago Route (154 km).
The Saimaa Archipelago Route (154 km) goes around the ring road through Taipalsaari, Lappeenranta, Imatra and Ruokolahti. Along the way you will find Huuhanranta, called the Saimaa Riviera, as well as the famous Imatra rapids. The route also has access to Savitaipale and through it to Mikkeli.
You can also reach the Puumala & Saima Archipelago Routes by public transport via cities Lappeenranta, Imatra or Mikkeli.
Tickets should be purchased beforehand.
LINTUSALO – SARVINIEMI (buy ticket)
SARVINIEMI – LINTUSALO (buy ticket)
KYLÄNIEMI – SARVINIEMI (buy ticket)
SARVINIEMI – KYLÄNIEMI (buy ticket)
Puumala Archipelago route on Outdooractive
Saimaa Archipelago route on Outdooractive
Experiences from Puumala & Saimaa archipelago routes
Kathrin Deter blog – Dreamy Trip In Finnish Lakeland: Exploring Saimaa By Bike
Saimaa Cycle Tour 8.-9.7.2022
In July 2022 Saimaa Cycle Tour runs around the lake Saimaa ja across Puumala area. This is te ultimate Lakeland midnight sun cycling experience!
Saimaa Cycle Tour's 300 kilometre route runs through the world's most beautiful lake landscapes. Enjoy the magical light of the midnight sun and experience the nightless night.
​​The Saimaa Cycle Tour is not a competition and it is open to cycling enthusiasts of all levels who want to challenge themselves for this unique cycling experience. The entire route is ridden along asphalted roads. There are multiple service points along the route, where drinks, snacks and warm meals are offered. Read more about the event and register!